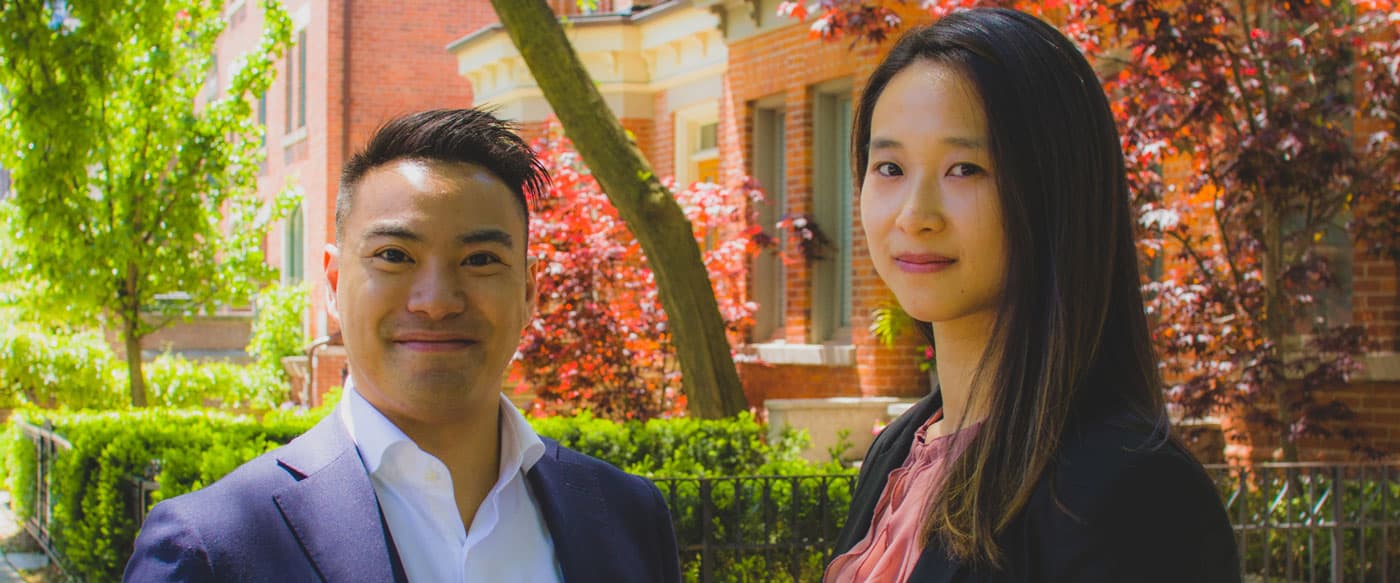 Chu & Huang Law is a boutique law firm located in Downtown Toronto's prestigious Yorkville neighbourhood.  Since its founding in 2016, the firm has quickly emerged as a respected general practice group. Our lawyers are equipped to handle a broad range of legal disciplines.  With a keen sense of business acumen, Chu & Huang Law provides a broad range of legal transactional services spanning from residential real estate conveyancing, commercial leasing to specialized corporate law matters.  Our lawyers are respected litigators and advocates to a variety of issues, covering topics of human rights law to complex civil proceedings.
Chu & Huang Law's reputation for high-quality legal services has attracted a dynamic roster of clients.  Given our boutique size and modern, tech-friendly approach to practicing law, we service individuals and families looking for day-to-day guidance as well as large overseas companies alike.
Our client base is fostered on a commitment of openness, fair billings and long-term cooperation.  These values have enabled us to create lasting relationships with clients, legal counsel and specialists from all parts of the world.  Apart from their respected legal pedigree, the lawyers at Chu & Huang Law come from a diverse background of experiences. Prior to joining the firm, our lawyers have been involved with multi-national companies, overseas projects and a host of other non-legal industry placements.  The breadth of our backgrounds provides a unique global and business-forward worldview that helps enrich our client interactions.
Chris helped us with the purchase of our first home. He was very thorough in explaining the process to us, the purpose of the different requirements for the purchase, and answering any questions we had. He was also very responsive and extremely flexible with when he was willing to meet. We enjoyed working with Chris and would recommend him to others, especially other first timers.
My family and I had a great experience working with Chris and his team at Chu & Huang Law! He was very professional and made our mortgage renewal process very simple with regards to the legal side of the renewal. Chris took the time to explain the documents we needed to sign in a way that we could fully understand what we were signing. He offered a competitive rate and was very transparent in his billing as to what we were paying for and the exact costs. He was also flexible to meet with us on our schedule which was very helpful. The office is a beautiful space that is very comfortable and welcoming! I would highly recommend Chu & Huang Law to anyone looking for a thoughtful, professional and knowledgeable lawyer!
Chris helped me with both the sale of my condo and the purchase of my first house. Both events happened in the span of one month and Chris was exceptionally competent and quick with his work. I am quite pleased with the level of professionalism from Chris as well as his work ethic and attention to detail. I strongly recommend the use of his services for all real estate needs and personally, I will be using his services exclusively; for all of my future real estate needs. Thanks Chris!
Chris is very professional, very helpful. I appreciate the most that Chris think ahead and get all things done before I even think to ask. Chris and his team is definitely the best.
Chris is an outstanding lawyer. As a Real Estate Agent, I can always count on him to take great care of my client referrals. Thank you for helping my clients and I with all the successful closings to date and looking forward to many more.